: समाधि samādhi
sama betyder lige og endnu bedre på dansk samme, som stammer derfra.
dhi betyder bevidst eller vågen med samme oprindelse som buddha, se næste blogindlæg.
samadhi er yogaens 8.trin og det allersværeste af alle at beskrive.
mahasamadhi (maha betyder stor) kan oversættes til død og er den betegnelse man bruger om en stor mesters bortgang.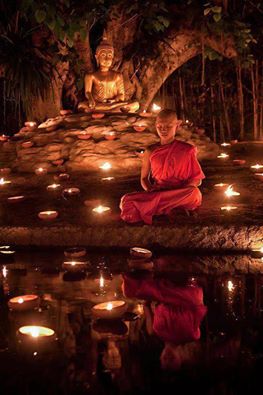 jeg er pt strandet på 2.uge i Buddhas by, hvor Buddha efter 6 års meditation i forskellige huler i omegnen til sidst satte sig ind under et boddhitræ, droppede alle illusioner, da han satte sig ud over angst og begær og derved opnåede oplysning.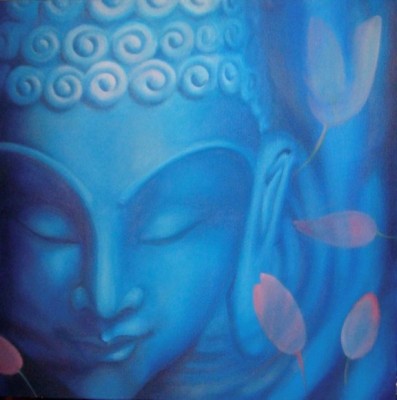 indenfor buddhismen er samadhi osse kaldet nirvana og ses som det 8.trin i the noble eight fold path, Buddha efterfølgende underviste i.
ved gennemgang af ashtanga = direkte oversat 8 trin, er det 8.trin samadhi altid et sted, jeg oplever som særligt udfordrende at forklare…
derfor vælger jeg at citere en lille snak fra God can be seen med henvisning til Veda'erne, hvor en mester beskriver den oplyste tilstand samadhi og refererer til kilderne:
…for what has been said in the Vedas and the Puranas, do you know what it is like? Suppose a man has seen the ocean, and somebody asks him, 'Well, what is the ocean like?' The first man opens his mouth as wide as he can and says: 'What a sight! What tremendous waves and sounds!' The description of Brahman in the sacred books is like that. It is said in the Vedas that Brahman is of the nature of Bliss – It is Satchidananda (sat-satya=sandhed, chid-chiddha=bevidsthed og ananda=lykke, red.)
Suka and other sages stood on the shore of this Ocean of Brahman and saw and touched the water. According to one school of thought they never plunged into it. Those who do, cannot come back to the world again.
In samadhi one attains the Knowledge of Brahman – one realizes Brahman. In that state reasoning stops altogether, and man becomes mute. He has no power to describe the nature of Brahman.
Once a salt doll went to measure the depth of the ocean. It wanted to tell others how deep the water was. But this it could never do, for no sooner did it get into the water than it melted. Now who was there to report the ocean's depth?"
A devotee: "Suppose a man has obtained the Knowledge of Brahman in samadhi. Doesn't he speak any more?"
Master: "Shankaracharya (one of the greatest philosophers of India) retained the 'ego of Knowledge' in order to teach others. After the vision of Brahman a man becomes silent. He reasons about It as long as he has not realized It.
If you heat butter in a pan on the stove, it makes a sizzling sound as long as the water it contains has not dried up. But when no trace of water is left the clarified butter makes no sound. If you put an uncooked cake of flour in that butter it sizzles again. But after the cake is cooked all sound stops. Just so, a man established in samadhi comes down to the relative plane of consciousness in order to teach others, and then he talks about God.
The bee buzzes as long as it is not sitting on a flower. It becomes silent when it begins to sip the nectar. But sometimes, intoxicated with nectar, it buzzes again.