skildpadden er et helligt dyr i flere kulturer
i de gamle hellige skrifter, Vedaerne er skildpadden, Kurma guden Vishnus 2. inkarnation.
læs eventyret om, hvordan Vishnu tar form som Kurma og redder jorden fra at gå under her
skildpadden er et helligt dyr blandt mayaerne, hvor der er fundet forskellige figurer og statuer af jorden, der skabes ud/af skildpaddeskjoldet. 28 forskellige mayasprog har alle et ord for Atlantis, som de også kalder turtle island.
i kinesisk filosofi om yin og yang er skildpadden det mest ekstreme yin, der findes.
yin er det langsomme, rolige, kolde og kvindelige aspekt, hvor skildpadden har et langsommere åndedræt og lever længere end nogen anden på landjorden.
skildpadden er ikke til at stresse, men er nede i omdrejninger pga sin langsomme vejrtrækning, måske en gang hver anden time – at den så samtidig kan trække sig ind i sit skjold og således lukke verden ude, gør kurmasana/skildpadden til en af de vigtigste asanas anvendt i forbindelse med yogaens 5. trin, pratyahara, kontrol over sanserne…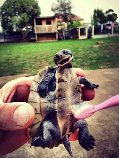 (hvilket denne lille skildpadde ser ud til at ha svært ved, da den blev kildet med en tandbørste ;o)

trods sit langsomme tempo vinder skildpadden alligevel væddeløbet med haren; noget der er lavet mange tegnefilm om…:-)
her en lille historie om skildpaddefamilien på skovtur:
A turtle family went on a picnic. The turtles, being naturally slow about things, took seven years to prepare for their outings. Finally the turtle family left home looking for a suitable place. During the second year of their journey they found it. For about six months they cleaned up the area, unpacked the picnic basket, and completed the arrangements.
Then they discovered they had forgotten to bring salt. A picnic without salt would be a disaster, they all agreed. After a lengthy discussion, the youngest turtle was chosen to retrieve the salt from home. Although he was the fastest of the slow moving turtles, the little turtle whined, cried and wobbled in his shell.
He agreed to go on one condition: that no one would eat until he returned. The family consented and the little turtle left.
Three years passed— and the little turtle had not returned. Five years..six years.. Then in the seventh year of his absence, the oldest turtle could no longer contain his hunger. He announced that he was going to eat and began to unwrap a sandwich.
At that point the little turtle suddenly popped out from behind a tree shouting, "SEE I knew you wouldn't wait. Now I am not going to go get the salt."
Many of us waste our lives waiting for people to live up to our expectations of them. We are so concerned about what others are doing that we don't do anything ourselves…